Welcome to uGlow: The multi-award winning fuss and mess free self tan!
uGlow: The Intelligent way to self-tan. 
uGlow Tanning water is the ultimate natural-looking hydrating self-tan spritz for flawless, sun-kissed skin.
Our hydrating mist formula is infused with Hyaluronic Acid and delivers a radiant, glowing ageless tan without leaving your skin feeling sticky or dry.
uGlow tan even has minimal odour, so you can enjoy your sun-kissed goddess glow without the telltale fake tan scent!
Fuss Free
Say goodbye to messy, tangerine fake tan.
Quick to Apply
Simply spritz onto your skin, and gently blend using the uGlow Application Mitt and Brush.
Minimal Odour
uGlow is a clear tanning water without the usual fake tan smell!
No Downtime
No need to wait for the product to dry. You simply spritz and get on with your day!
Multiple Benefits
As your natural glow is enhanced, you will discover skin feeling moisturized and plumped thanks to Hyaluronic Acid and Clear Water Technology (CWT).
For Everyone
uGlow is designed for all and thanks to being odour free, it's your tanning secret and mine.
New Beauty Product of the Year 2021-2022
Best Beauty Product 2022-2023
Most Innovative Self Tanning Product 2022-2023
Global Award for Best Beauty Brand 2022-2023
If you are fond of fake tan, which we are, you may run into issues when fake tanning your face. It can be a tricky part of the body to tan but if you skip it then your face will be a different colour to your body!   A well applied facial tan can give you a...
read more
uGlow: The intelligent way to tan
The most amazing product I have ever used
The most amazing product I have ever used. My absolute go to for every occasion.Natural , moisturising , flawless finish , beautiful results
You really do glow after using this product. Ageless tanning in a bottle.
Perfection.
Well done uGlow....I'm converted!
I have used tanning products for years but I hate the awful smell that comes with them… As well as the streaks and orange hands. UGlow is such a brilliant product. So easy to apply, no streaks and no smell! Well done uGlow… I'm converted.
Natural Tan
Have used this product and it is amazing. Would highly recommend for a natural tan.
A lovely product so easy to use
A lovely product and so easy to use. Leaves your skin with a healthy looking natural tan.
A very natural tan
I would definitely recommend this tan! I've used lots of other tans that end up patchy and streaky but now use UGlow. I usually apply one coat one morning throughout the week and it dries instantly. I apply it before make up and it doesn't affect it or leave any marks on my clothes as it develops throughout the day. I top it up if I'm going out but one application lasts a long time and doesn't become patchy or have parts wash off. The application brush is great for applying the tan on hands, elbows and face as it goes on smoothly and evenly. A very natural tan that I've had lots of compliments on!
I won't use another tan again
I've been using uglow for around a year now & I definitely won't be changing brand. Its the best tan I've ever used. Application is easy, it dries straight away so you can dress, doesn't smell & skin looks fresh. The colour matches my skin tone perfectly. I would definitely recommend you try it, you won't be disappointed!
Absolutely Fabulous!
Absolutely fabulous ., I was a little hesitant about using a self tan for my face but it was easy to use and completely natural ., I've just had some dark spots removed so don't tan my face , only my body , and this meant I looked like I had a gorgeous tan without any fear of the ageing dark spots reappearing
uGlow is amazing
Uglow is amazing. For many years I have finally found a product that is easy to apply and even better has no smell and leaves my skin feeling hydrated. As a sufferer of psrioasis I am always very very cautious of new skin products but I have found no reaction and my skin is glowing and even in tone. I would highly recommend this to all that use self tanning products that want a natural glow.
Love this product!
Love this product ! Gives a very natural tan – not too dark , so doesn't look silly on my natural pale skin & great for the face. Goes on easily especially with the gorgeous mitt & brush .dries quickly and doesn't mark your clothes even whites! I've had a professional spray and use at home – can highly recommend!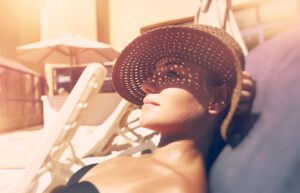 uGlow Tanning water - The Intelligent way to self tan
uGlow: odourless self tan | FAQs
uGlow Tanning Water for men | Fake tan for men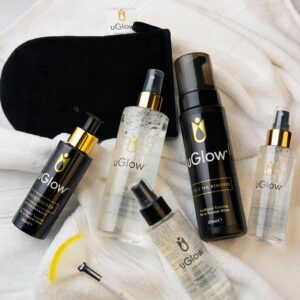 uGlow Tanning water - The Intelligent way to self tan