uGlow: Award-winning tanning products for professionals. Give your clients the very best.
Quick drying
Less product needed per tan
No mess on salon walls
Contains Hyaluronic Acid and Clear Water Technology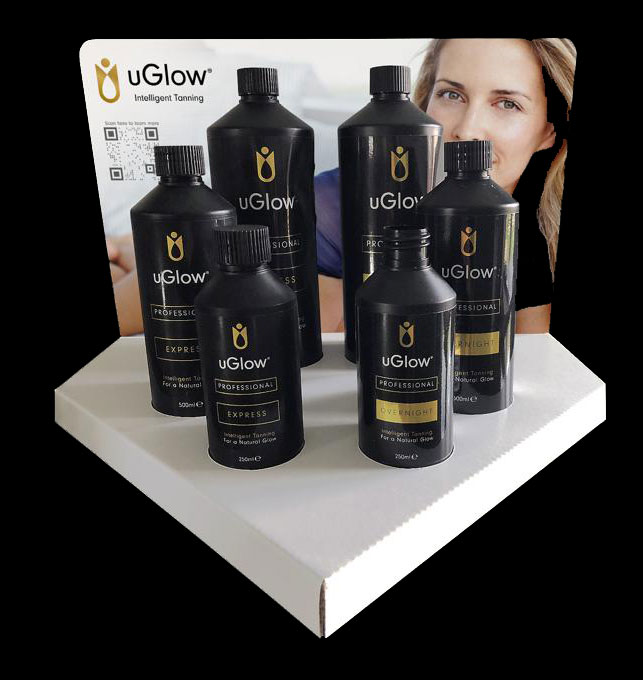 uGlow's natural look means clients won't have to wait for special occasions, they can wear a sunkissed glow everyday.
Intelligently thinking of every situation for your clients, for those who need to tan and go, we have created our overnight solution, it can be left on all day or overnight – developing a natural glow and with our odour neutralising technology its your clients best kept secret.
The key ingredients to uGlow's inteligent tanning, Hyaluronic Acid and Clear Water Technology (CWT) leaves your clients skin plumped, soft and healthy looking, from the minute its applied. 
Best Tan on the Market
I just can't believe how amazing this tan is and the customer satisfaction I have had with it. I am so honoured to be working with you and what I believe is the best tan on the market.
Golden Tan
Been a mam of dancing girls I have tried lots of self tan & every spray tan going! uGlow is amazing, I love how it does not make you look orange, no smell, less stickiness, goes on clear and most of all leaves you looking like you have a natural golden tan!
5 Star
I use uGlow at sunkissed glow and beauty by Cheryl, this product is amazing…so easy to use, so natural, giving my clients the confidence they deserve from a tan. No smell, no patches, it's fab – would highly recommend to anyone who wants a naturally glowing 5 Star tan!